Garden and Health Tips
Gardening for Your Mental Health on World Wellbeing Week
By Norwoods Gardener
20th June 2023
World Wellbeing Week, organised by Alliance for Better Care, is a time to reflect on the different ways we can improve our health, and participate in acts of selfcare to look after our wellbeing. One great way to support your physical, emotional and mental health is gardening!
We've all heard that gardening can make us feel good – it stands out as a natural remedy for overall wellbeing amid the busyness of life. It's physical, helping us to keep up our physical health, and brings a feeling of escapism and contentment, both of which are great ingredients for creating a positive mentality.
Here are eight reasons to pick up gardening for your mental health this World Wellbeing Week.
The Benefits of Gardening for Your Mental Health
1. Stress relief
Imagine yourself out in the garden on a warm evening; there's a cool breeze in the air and you can hear the sounds of nature around you. Do you already feel less stressed?
Simply put – humans respond well to being in a green environment. Being outdoors in the fresh air causes our worries to slip away, allowing us instead to focus on the task at hand. It's good practice to give your mind a break from the stresses of everyday life, and gardening helps you do exactly that.
Check out our tips for making your garden the ultimate relaxing space to unwind and escape it all for a while.
2. Sense of achievement
One of the ways gardening is good for your mental health as it helps you feel a strong sense of achievement. It's always satisfying when hard work pays off, and gardening is sure to trigger this response.
Things in the garden take time – whether it's waiting for something to grow or gradually bringing your allotment to life, there's no denying it's a long game. This delayed gratification is good for your mental health, giving you that feel-good moment when you finally see everything come together.
3. Good exercise
Your mental and physical health tend to go hand in hand. We certainly always feel better after being on our feet, even for a little while – and there's not a whole lot of sitting down when it comes to gardening!
It's often very physical work, with constant digging, lifting and bending. Research has shown that gardening can burn around 330 calories per hour, roughly equivalent to a half-hour run! Exercise is encouraged to improve our mental health as it releases endorphins, known as the 'happy hormone', and you can get plenty of exercise in the garden.
4. Sense of responsibility
As well as a sense of achievement, gardening also helps us feel a sense of responsibility. We're often inclined to look after other things more than we look after ourselves, and that applies to plants too.
As we watch our garden grow, we develop more of a nurturing attitude to it and ultimately want to take care of it. It teaches us to be accountable for the living things in our care, giving us a sense of purpose and fostering a deeper connection with nature. It's a rewarding feeling to look after something that depends on you, which is ultimately good for our mental health.
5. Connecting with a community
Gardening can be a communal activity, and socialising is so important for our mental health. Whether you have an allotment space and connect with other allotment keepers, or are part of a gardening group to share tips and tricks, gardening fosters teamwork.
It's a great opportunity to build new relationships by engaging in a shared interest. We're social creatures at heart, and having someone to share your gardening world with is a great mental benefit of gardening.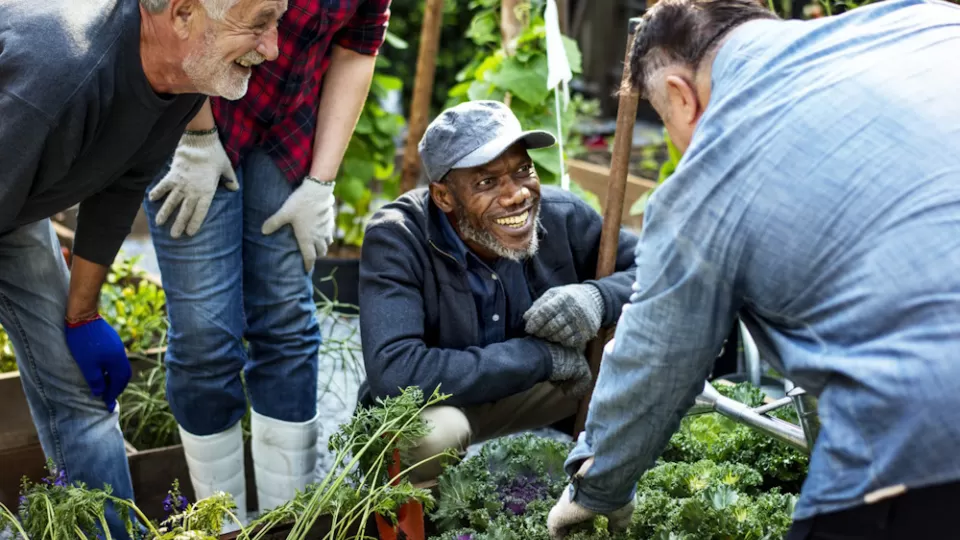 6. Improve your environmental impact
At Irrigatia, we're big on making gardens a little bit greener – in looks and in practice. Feeling like you're contributing to a greater cause is amazing for our mental health, and gardening is a good way to do this.
By growing your own produce, you're keeping things close to home and reducing your carbon footprint and use of single-use plastics in the process. All of these are effective ways to help lessen your environmental impact, keeping the planet happy and yourself content in the knowledge you're doing your bit.
7. Boost your vitamin D
We'd be remiss not to mention one of the key reasons we love to get out in the garden – the sun!
It's important for your body to get enough vitamin D to help keep you strong, and you only need to be exposed to sunlight for as little as 30 minutes a day to reap the benefits. Being out in the sun can also stave off Seasonal Affective Disorder (SAD) and boost your serotonin levels, with is key to improving your mood and promoting better mental health.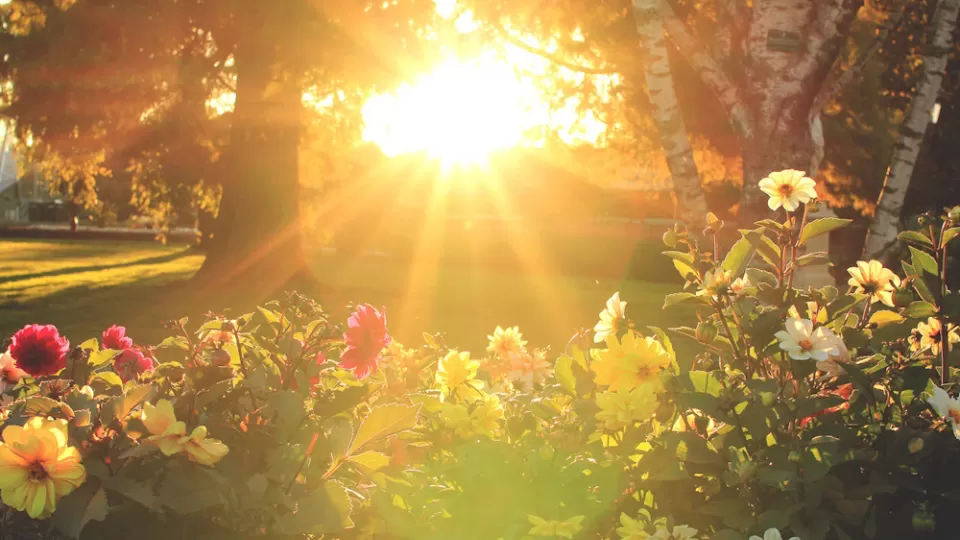 8. Continual learning
Learning something new makes us feel good, and there's always something to learn or a new skill to develop in the garden. Gardening is a lifelong learning experience, encouraging continuous personal growth and cultivating patience.
Whether you're a beginner just starting out or an experienced gardener who's been at it for years, learning through gardening nurtures a positive mindset that extends beyond the garden.
We hope we've inspired you to take up gardening and get out in the garden for your mental health and physical well-being this World Wellbeing Week! For more gardening tips, look through our latest blogs.
Don't forget to follow us on Instagram and Facebook to keep up to date with our latest growing adventures in the Irrigatia garden.
From our blog
Irrigatia
Tips and
Insights
Read the latest blog posts and news articles from Irrigatia — get expert gardening advice.
See all blog posts