What to Do with Hanging Baskets for Winter?
Whether transitioning summer hanging displays or starting afresh, winter hanging baskets are worth investing your time into. While many trees remain leafless and gardens often looking a little bleak, a refreshing display of colour and life into your outdoor space will bring joy through the darker months.
Here, we'll cover top tips on how to keep your hanging basket healthy and happy, and how to create the most extravagant themed displays with hardy winter plants.
Back to basics – how to create winter hanging baskets
Ensure you have a strong bracket or fixture to hang your plant from- watered plants can be very heavy, especially in strong winter winds.
If you're starting from scratch, any basket will do, just ensure there is both sufficient drainage and structure. If you're using wire baskets, this usually means including a liner.
When adding compost, leave at least an inch from the top to prevent pesky water spillages.
Water levels need to be checked thoroughly and compost must be watered once dry. Avoid regular trips out to the garden in the cold weather and let Irrigatia watering systems do the job for you. With SMART technology tracking watering levels and only watering when needed, our solar powered systems are designed with hanging plants in mind.
Creative flair is key, however hanging plants benefit from a mixture of trailing plants for basket coverage, tall plants for height, and colourful showstoppers to garner the attention your display deserves.
Your planting selection must be of the hardy or evergreen variety to survive frosty weather.
Deadheading should be done when necessary, and liquid fertilizer feeds are appropriate in the milder months- frost is likely to kill new, tender growth.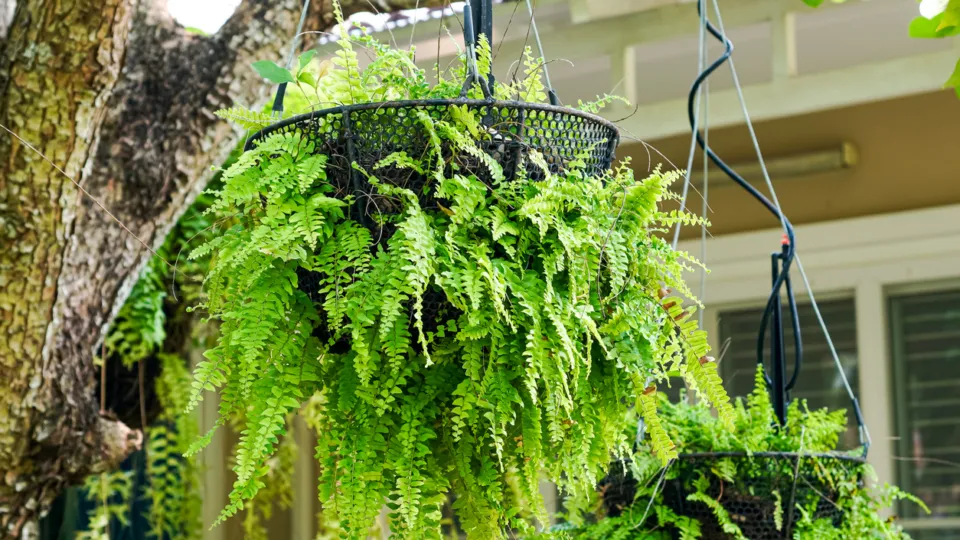 Winter basket inspiration – a three-step guide
Trailing Plants - These ideally should be planted first and include evergreens such as trailing ivy for a robust yet whimsical feel, whilst 'Cockle Shell' continues to remain popular with gardeners for its deep green colourway.
Tall Plants - Evergreen ferns and heathers are perfect chances to capture English wilderness in your garden, including the height and drama associated with rugged moorland.
Pops of colour - Adding evergreen shrubs with winter berries is the key to creating a super wintery display, all you need is a robin to land on your basket for to turn it into a picture-perfect Christmas card. If you prefer the summer theme, hardy pansies and violas provide just that. We're big fans of using violas in the Irrigatia garden – they're easy, colourful and mesh well with summer baskets. Perfect for when you go to take the winter set down and hang up the new set!
For more gardening tips and ways to save time and water this winter, take a look through our latest blogs here.
Don't forget to head on over to our social channels to keep up to date with our latest cold weather projects in the Irrigatia Garden!