Summer Gardening Tips
How to Throw the Best Garden Party This Summer
By Norwoods Gardener
11th August 2023
It's garden party season! There's nothing we love more than sitting outside and relaxing in our garden – except when friends and family are there to join us.
Before we can think throwing a garden party, we need to make sure the garden is presentable and that we're ready to host. It might seem like a big task, but it's easy to quickly smarten up your outdoor space while still staying true to the aesthetic of your garden. To help you out, we've outlined quick-fire garden prep tips as well as our advice on how to throw a party your guests are sure to remember.
Irrigatia's Quick Garden Party Tips
When it comes to preparing the actual garden for company, this is our go-to list to help make the space look tidy and appealing:
Mow the lawn
Trim your edges
Give garden furniture a clean
Wash down your patio or decking
Make sure the barbecue is clean and ready to go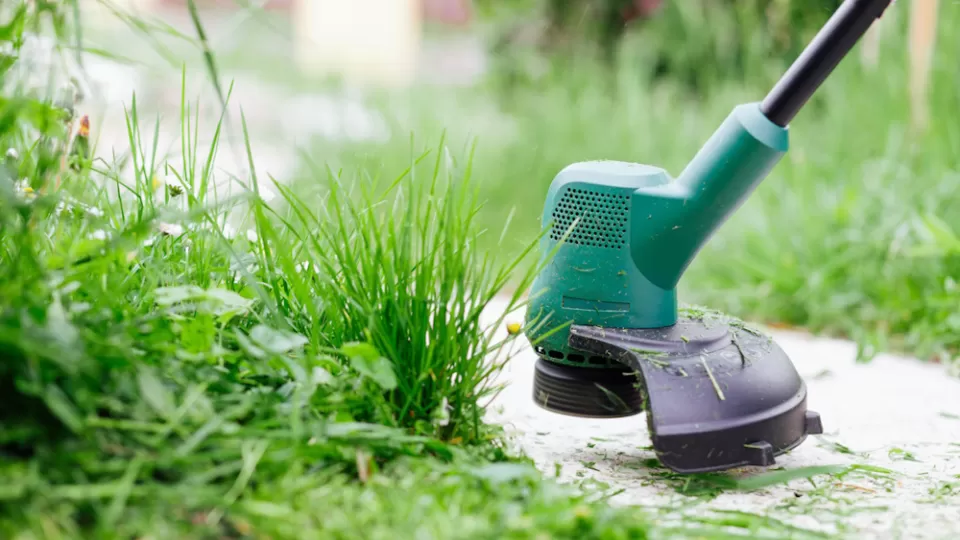 How to Throw a Garden Party That Your Guests Will Love
Now that you've neatened up the space, it's time to get into the party planning. Whether your space is big or small, these tips will help ensure you're prepared and that your garden looks its best – from decorations to ambient lighting.
1. Provide some shade
The longer days mean longer hours in the sun – so it's a good idea to have both shaded and sunny areas available in the garden when throwing a garden party. Whether you decide to erect a gazebo or simply provide a sun umbrella or two, having an area where guests can seek respite from the sun will ensure everyone is comfortable and safe to enjoy the party.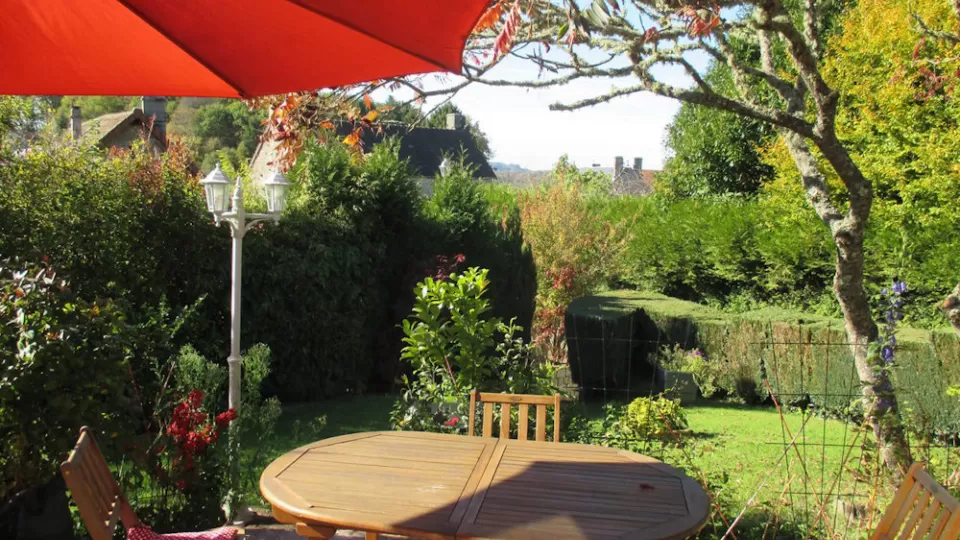 2. Serve food from the garden
It's the perfect month for enjoying the fruits of your labour – literally – as blackberries, tomatoes, and plums are in season. Throwing a garden party is a great opportunity to serve food from the garden, either as they are for a refreshing snack or by baking them into fruity desserts. Berries are also the perfect addition to a cold glass of champagne, and a fresh summer harvest salad is the perfect light bite!
3. Match decorations to your garden
Your garden can provide the ideal base for the theme of your party. Whether you have an impressive flower display of lilies or delphiniums, or your garden is a more wild and green space, use this to your advantage. Select table decorations that match the colours in your garden, and consider displaying hanging baskets for additional colourful décor.
4. Set up outdoor games
Games will help keep your guests entertained and are a great icebreaker to get conversation flowing. You can select these based on garden size and overall style of your garden, but you can't go wrong with classic wooden games, in our opinion! Croquet, hoopla, and giant Jenga are just some garden games you can provide that are sure to start the fun.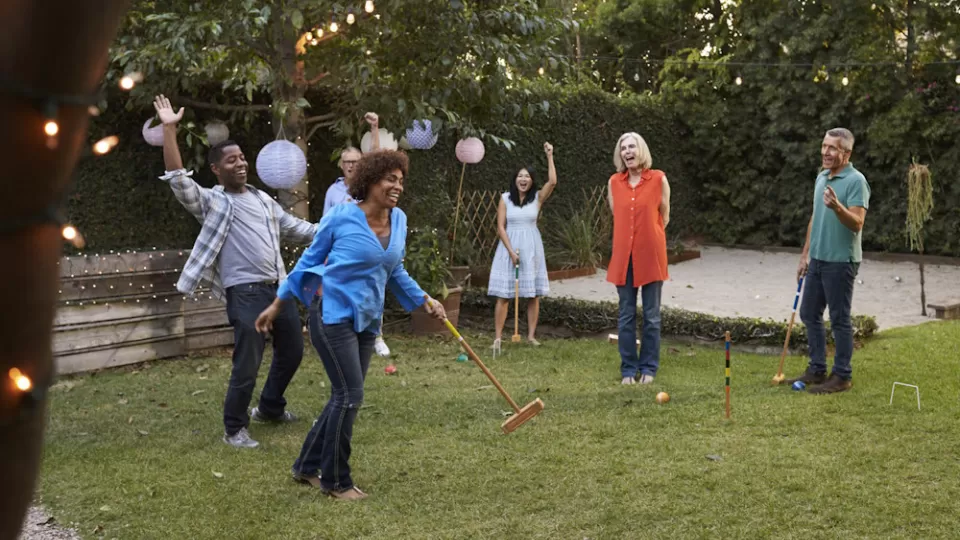 5. Create tiered serving stations
Creating tiered serving stations will help to free up space and avoid clutter. Instead of having a few different tables, consider adding layers to one table to display your nibbles and drinks. You could even hang snacks such as bags of crisps – simply drape some decorative string or bunting over the table and use pegs to fasten the bags!
6. Pest control
One of the only things that can spoil a good garden party is the abundance of insects that want your food and drink as much as you do. Try to get creative with how you choose to serve them – such as serving drinks in quirky mason jars with straws through the lids. Citronella oil is also said to repel unwanted garden pests, so consider lighting candles with this scent throughout the garden to keep them at bay.
7. Create a party playlist
No party is complete without music! Depending on the general feel you're going for, don't forget to curate the perfect playlist for guests to enjoy. Whether it's some casual jazz that sits more in the background or an all-out pop playlist to get people dancing, music massively affects the mood of your party – so it's important to match it to the vibe you want to set.
8. Add ambient lighting
As the sun starts to set, one great garden party tip is that the lighting you use can be the perfect way to wind down the party and add a cosy feel to the garden. You can do this by adding candles to tables, decorative lanterns to trees or by hanging some fairy lights, which are particularly good for smaller gardens. Think beauty as much as functionality when it comes to picking your lighting.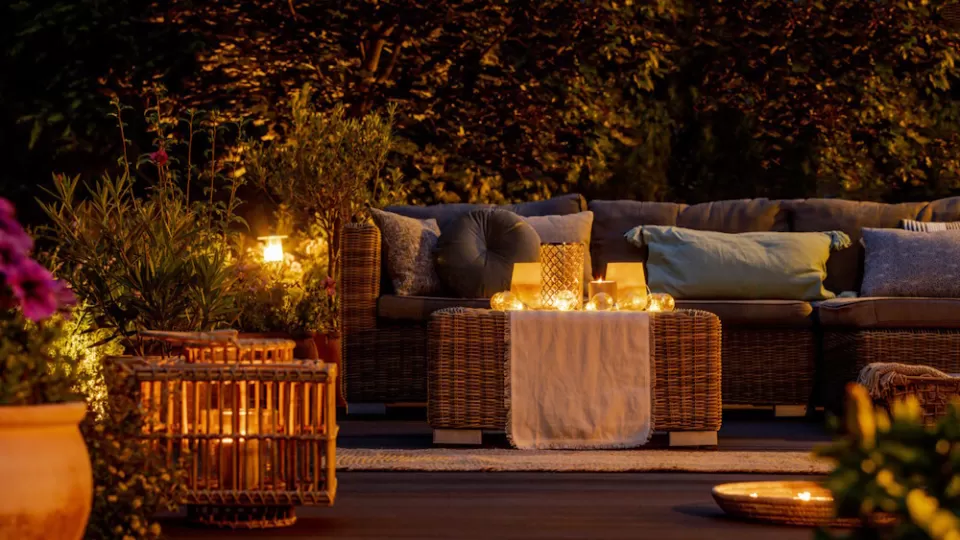 9. Have a rain contingency plan
We can truly never predict the weather in the UK and the potential for rain is always on the cards, so it's always smart to have a rain contingency plan. Consider investing in a tent or gazebo that's either erected in advance or easy to put up in the event of a downpour. You can even prepare a space inside the house as a back-up – just ensure you're factoring portability into your snacks and decorations.
While we're on the subject of water, be wary if you have sprinklers set up. We would recommend an automatic irrigation system, which waters your plants from the root and won't splash your guests!
10. Create garden harvest party favours
Last but not least, think about creating party favours from the garden! We love the idea of creating a harvest basket full of fruits, veggies, herbs and even flowers from your garden. Whatever you've got to spare, it's a lovely touch to create a small hamper of goodies that your guests can go away with.
With our top tips on how to throw an incredible garden party, your do is sure to be a hit with your guests! For more gardening advice, take a look through our latest blogs, and don't forget to follow us on Instagram and Facebook to keep up to date with our latest growing adventures in the Irrigatia garden.
From our blog
Irrigatia
Tips and
Insights
Read the latest blog posts and news articles from Irrigatia — get expert gardening advice.
See all blog posts