Gardening Tips
When are raspberries in season in the UK?
By Norwoods Gardener
8th September 2023
We love growing raspberries in the Irrigatia garden – not only can they be used in a variety of recipes or as a tasty treat on their own, but they're also a great testament to the rewards of growing your own fruit and veg.
There are quite a variety of raspberry plants, each with their own tastes and textures, from traditional red raspberries, black raspberries to golden raspberries. They're all fantastic for nutrition, providing you with a wealth of vitamins and antioxidants as well as a delightful taste.
Here, we'll go through when raspberries are in season in the UK, as well as tips for planting and harvesting so that you can grow your own, regardless of whether you've been growing them for a while or are thinking of doing so for the first time.
When are raspberries in season?
Raspberries generally fall into two seasons based on their fruiting periods; summer-fruiting and autumn-fruiting,
As you might have guessed, the harvest window for summer-fruiting raspberries is during the summer months. These varieties, such as Glen Ample, bear their best fruit from June to early July, so these months are the perfect time to harvest them.
Autumn-fruiting raspberries are best picked in… yep, autumn! Their fruiting season extends from August to October, giving you a second wind at growing some raspberries and enjoying their flavour for longer. Varieties include Autumn Bliss and Polka.
Pruning Raspberry Plants
Pruning can vary across the two seasons. Summer-fruiting raspberries fruit on the previous year's canes – these can be pruned out after picking, but you should take care to leave any new canes in place.
Autumn-fruiting raspberries fruit on the same year canes as opposed to the previous year's, which can be cut down after picking around November – December to encourage new growth in the spring. However, they can also be left in to give an early crop – rest assured there will still be a follow-on autumn crop if you do this.
Growing your own raspberries
Planting
Raspberries are best planted in the dormant season, roughly from November to early March. Doing so at this time of year allows the plants to establish roots ahead of the main growing season and gives you the best chance at a bountiful crop.
The plants can grow quite tall, so during raspberry planting season you should aim to leave space of around 45-60cm between canes and erect sturdy support to keep them in place. They grow best in well-drained soil, but need a regular, consistent watering schedule as they hate to get dry. Our Irrigatia systems can help you with that by providing your raspberry plants with the right amount of water, directly to the root!
Harvesting
Ripe raspberries are easily detachable, so you shouldn't find yourself applying excessive force to remove them from the plant – if this is the case, they're likely not ready to be removed yet. Simply grasp the raspberry gently and give a small twist, and it should come right off.
Your plants may be susceptible to drying and disease during the raspberry harvest season, so it's important to ensure there's sufficient airflow between plants and that you're quick to remove any infected canes before allowing them to spread.
Picking raspberries during the cooler parts of the day is a handy way to prevent drying as less water is evaporated into the atmosphere, helping them retain their natural moisture.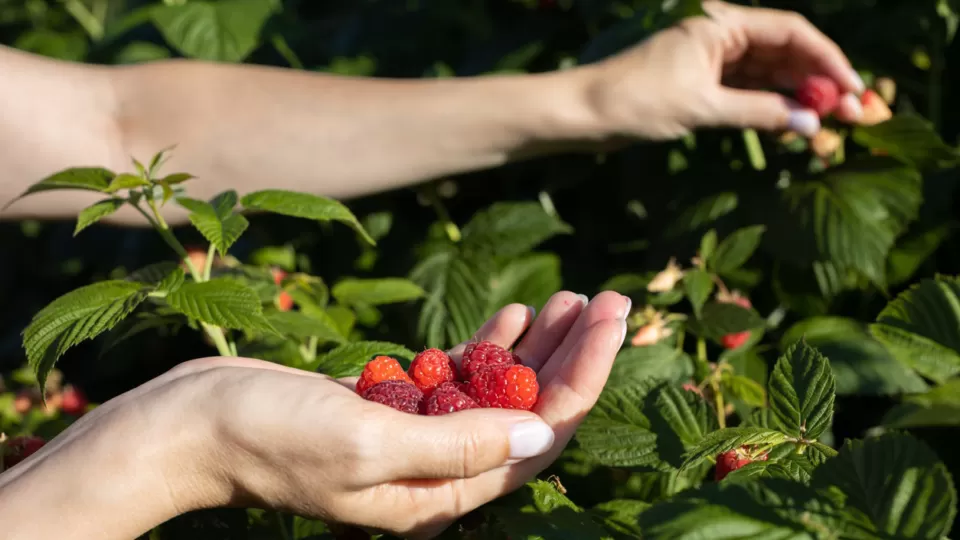 Enjoying your homegrown raspberries
Raspberries are a wonderful snack in their own right, so you can enjoy them straight off the cane once washed. If you're looking for some other inspiration on what to do with your harvest, here are some of our favourite ways to use them:

Morning berry bowl – Raspberries combined with other seasonal fruits make for the perfect breakfast
As a garnish – Whether you're having cereal, oatmeal or yoghurt, vamp up the flavour by sprinkling some fresh raspberries over the top; they're also perfect to add to a cocktail or glass of prosecco
Something sweet – We love baking raspberries into muffins, tarts and pies to create the ultimate fruity sweet treat
Preserves and jams – Raspberry jam has to be one of our favourite kinds and allows you to preserve your harvest for even longer
Now that you know when raspberries are in season in the UK, these tips should help you cultivate a bountiful raspberry harvest, and we hope they encourage those of you who haven't grown them before to give it a try! For more recipes and tips on what to grow in the garden, take a look through our latest blogs.
Don't forget to follow us on Instagram and Facebook to keep up to date with our latest growing adventures in the Irrigatia garden.
From our blog
Irrigatia
Tips and
Insights
Read the latest blog posts and news articles from Irrigatia — get expert gardening advice.
See all blog posts