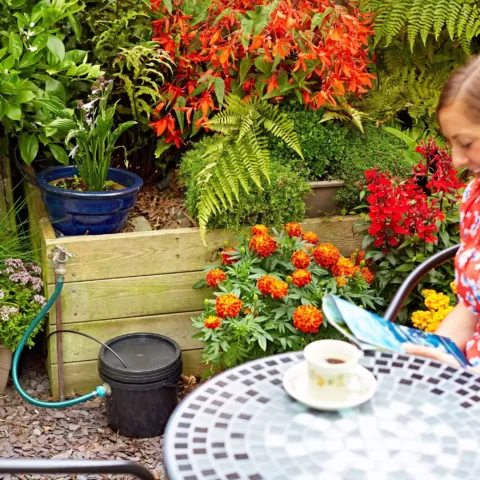 More Information
Water Reservoir for Irrigation
Irrigatia's water reservoir for irrigation is ideal for when you do not have access to a natural water source such as a garden butt or rainwater tank.
A drip irrigation reservoir is continually refilled from the tap using the irrigation kit float valve, ensuring your plants have a steady flow of water during the watering cycle without any supervision. With a capacity of 5 litres, the reservoir irrigation occupies only a small area that can be neatly placed beside your garden tap and is compatible ideally with the L-series, SOL C12L and SOL C24L irrigation kits.
Shop Irrigatia's solar water pump and reservoir today for an optimal garden irrigation solution, or find our full collection of garden irrigation extensions and spare parts.
Buy now on our shop
Customer Quotes
What People
are saying
More than 350 homeowners across the UK participated in our survey and over 70 percent stated holiday watering was the key reason they choose our irrigatia kits.
Discover our products
As an engineer and a gardener I must say that this is an extremely well designed product.
Peter Ward
"Instructions were easy to follow and I will never know why I waited so long, it was fantastic."
Heather